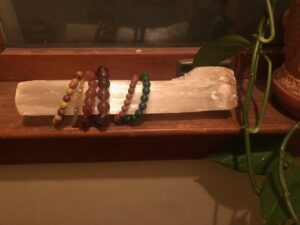 There is a crystal shop in Birmingham. Do you know what their use is? Did you know that  you can talk to crystals and intuitively receive their messages?  Before I begin my healing work sessions, I invite the crystals in as another tool to use for channeling the soul. Throughout the session, I feel nudges in my thoughts to pick one up and use it.
When I am at home and I grab a crystal to use for myself, I do my best to be intentional in asking for its assistance.  For example, I set the intention that the grounding stone I'm holding, calm my energy and bring me into my heart.  I might say, "I now allow this crystal's energy to assist me in what I need."
Before having people over, I make sure to set a Rose Quartz crystal on the kitchen table, to help feel the love flowing in the room and help the conversations to be filled with great energy!  I do the same when entertaining outdoors.
I use a selenite log to put bracelets and necklaces on at the end of the day, to clear their energy.  Of course, any Selenite will do!
You will usually find a crystal or 2 on the dashboard of my car to hold, just in case.
Crystals are awesome!!  They never cease to amaze me when I feel the shift in energy.  Even if I'm holding one and not tuning into it, or trying to feel something from it, they still work.
I think back to a trip I had with some girlfriends a few years ago.  We were all camped out by the pool and had the perfect spot, or so I thought.  There were some loud kids acting wild in the pool near us and I was growing annoyed.  I knew I was being ridiculous but couldn't shake the annoyance I was feeling..  Just then, my intuition/ guidance reminded me of the Rose Quartz in my purse. I sat there in my lounge chair holding the Rose Quartz and not thinking about anything in particular.  Within a matter of about 2 minutes, I noticed my change in energy as I started to observe the kids..  I started to see the kids as humans having fun and feeling free.  I felt love for their freedom, innocence, and being able to play. I felt peace and continued on with my time at the pool, laughing with friends
I was so grateful for that experience in being reminded that we have so many tools as support.  We just have to use them and allow our experiences to expand to even greater potentials and possibilities, as we continue to enjoy our human experience on this amazing planet.
For more information on sessions and booking, please go to:  https://soulhealingbykatiesass.com
To purchase crystals in person and locally in Birmingham, MI, check out on FB Luna's Lemuria!
https://www.facebook.com/lunaslemuria